Colorado Classroom returns with new episodes this Fall
by
Published on
• Last modified on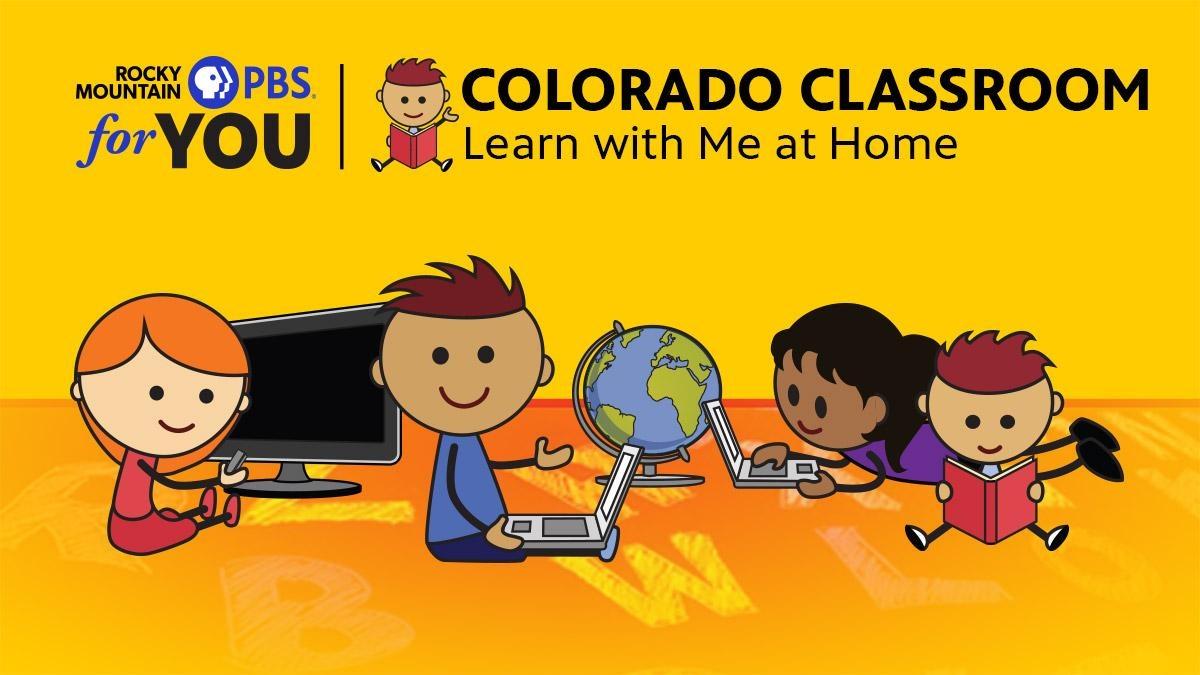 Rocky Mountain PBS
Gov. Polis, Colorado Department of Education and the Colorado Education Initiative Partner with RMPBS to Continue to Offer K-3 "Learn with Me at Home" Programming This Fall
Beginning September 7, Rocky Mountain Public Media will provide complementary
curriculum in literacy, science and math for K-3 children and their families
DENVER, CO (Aug. 31, 2020) —Governor Jared Polis, the Colorado Department of Education, and Colorado Education Initiative are partnering with Rocky Mountain Public Media (RMPBS, KUVO JAZZ, The DROP) to provide K-3 students, their families and caregivers with direct-to-home remote lessons in literacy, science, art and math through Colorado Classroom: Learn with Me at Home starting September 7 and airing for 15 weeks on RMPBS.  The website, which will include accompanying lesson plans for families, caregivers and their children will launch the same day at: rmpbs.org/ColoradoClassroom.
"This partnership with Rocky Mountain PBS is a creative way to ensure that young, Colorado learners can continue receiving important lessons in literacy, math, science, art and more," said Governor Jared Polis. "While many students are already back in class, other school districts haven't begun in person learning yet and we want to do everything we can to support Colorado students, teachers, and parents as we navigate these challenges together. Our children are the key to our future, and I want to thank all of the partners and master educators who are making sure students continue receiving quality instruction this fall."
Thanks to the generous funding of Colorado Empowered Learning through the Governor's GEER Grant, Education Reform Now, and Delta Dental, this critical learning initiative will be available for children and families across the state who have been affected by the partial opening of schools and remote learning due to COVID-19.
"As an organization that always puts students first, Education Reform Now is proud to partner in this amazing effort at such a critical period for our youngest learners," said Jen Walmer, Colorado Director of ERN. "These direct-to-home remote lessons will offer a crucial resource to families and caregivers as they strive to support their students and optimize their progress during this unprecedented and trying time."
Through its Rocky Mountain PBS (RMPBS) stations that include Denver (KRMA), Pueblo/Colorado Springs (KTSC), Steamboat Springs (KRMZ), Grand Junction (KRMJ) and Durango (KRMU), and online presence at rmpbs.org, Colorado Classroom: Learn with Me at Home will be broadcast and made available for free on a statewide basis in English with Spanish subtitles, providing K-3 learners with access to reading, science, technology, engineering, artsand math resources (STEAM) at home on television. By providing lessons online and on broadcast television, we are able to reach families in all locations in the state, regardless of a family's access to broadband internet service. For information about which channel airs RMPBS in your location, visit rmpbs.org/channels/.
"Rocky Mountain Public Media considers this important learning program to be an extension of our educational mission in service to Colorado communities during the unprecedented COVID-19 pandemic. Particularly for children who live in rural areas or in our cities who do not have consistent access to high-speed internet or computers at home, offering this complementary curriculum on our RMPBS broadcast channel ensures every child has a place to continue learning," says Amanda Mountain, president & CEO of Rocky Mountain Public Media.
Colorado Classroom: Learn with Me at Home allows master teachers from across the state to teach students through lessons geared specifically toward K-3 age ranges every Monday-Friday from 8 a.m. -10 a.m. for at least 15 weeks starting on Labor Day. To engage students in literacy learning across many different topics, including science, technology, engineering, arts, and math (STEAM), the fall program will have themed weeks, starting Week One with Me & My Home and subsequent weeks with the following themes: Space, Art, Earth, and Animals. Every Friday, Denver Museum of Nature & Science is providing family science programming with interactive and engaging science lessons, as part of the curriculum.
"We are excited to bring our mission to life by connecting families across Colorado with fun and educational nature and science programming. Using broadcast as a resource brings access to more students, families, and educators at this critical time," said Denver Museum of Nature & Science President & CEO George Sparks. "We're thrilled to be a part of Colorado Classroom with science programming and hope families will tune in for demonstrations, games and activities to connect with nature and science in fun and surprising ways."
The Colorado Education Association has generously provided the funding for stipends for the master teachers. This fall, RMPBS is thrilled to have returning teachers from the spring Colorado Classroom programming, including Mrs. Tori Teague, Mrs. Ellie Radue and Mrs. Marietta Stechmeyer. Mrs. Stechmeyer is a 1st grade teacher at Strive Prep Ruby Hill in Denver and is the beloved "Phonics Queen" who taught K-1 Intermediate/Advanced English Language Development with interactive songs and games as part of her lessons that engaged and delighted students from all parts of Colorado.
"I am thrilled to be returning to Colorado Classroom this fall! It was a privilege to be able to reach students throughout the state last spring through the magic of PBS," says Mrs. Stechmeyer. "This experience has reminded me just how much I love teaching and interacting with kids, no matter what the format. I'm inspired every day by the joy and resilience of children across Colorado."
Viewers can watch or record the lessons, as they will be rebroadcast overnight on RMPBS to allow for DVR recording. Accompanying lesson worksheets will be available at rmpbs.org/ColoradoClassroom starting September 7 for parents and caregivers to use, adapt, and build upon. Thanks to a partnership with the Colorado State Library, participating libraries across the state are also offering access to the worksheets for families that do not have internet capabilities, with no requirement for a library card to do so. For a list of participating libraries across the state or to request that worksheets (in English or Spanish) be mailed directly to homes, families and caregivers can call 800-274-6666.
Beloved educational PBS KIDS programming will continue to be available all day on the 24/7 PBS KIDS subchannel or on the free PBS KIDS Video or Games apps. For information about how to access channels based on location, visit rmpbs.org/channels.
"Through the Governor's GEER grant, CEL is delighted to be a funder for Colorado Classroom: Learn with Me at Home on RMPBS this fall. This is such an important initiative to ensure that children and their families across the state of Colorado have access to learning opportunities, especially for those under-resourced school districts where students have little or no access to the internet," says Dr. Ken Haptonstall, program director for Colorado Empowered Learning.
The partnership with the Office of the Governor of Colorado, the DOE and the Colorado Education Initiative builds on the existing RMPBS partnership that began in May of this year with literacy-focused learning for K-3 students.
"When we launched this programming in late spring, we knew then that we needed to radically shift educational delivery to ensure families and students across the state had access to high quality content and that is even more true today," said Rebecca Holmes, President and CEO of the Colorado Education Initiative. "We know that 30,000 Colorado students lack internet access and ensuring learning arrives in homes is a critical partnership we must make with families during this moment of disrupted learning."
Local listings will reflect individual station schedules and include programming for additional educational content.
Monday-Friday Daytime Schedule (8am – 10am MT):

*7 a.m. start time on Monday, September 7 only.
8 a.m. - Kindergarten

8:30 a.m. - 1st Grade

9:00 a.m. – 2nd Grade

9:30 a.m. – 3rd grade

"Math Minute" lessons will run throughout day 



Monday-Friday Overnight Schedule*:
*Check your local listings for air times.
Colorado Classroom: Learn with Me at Homewill re-air nightly from 3 a.m. – 5 a.m. MT for families to record and use at their convenience.

Online:
Lesson plans and student work packets at: rmpbs.org/coloradoclassroom
In conjunction with and as a compliment to Colorado Classroom: Learn with Me at Home, RMPBS will air an additional 13-episode series entitled Simple Gifts to support early childhoodlearning. This series combines literacy, music, movement, and language for children birth to seven years of age and was created by Linda Weise, founding CEO of the Colorado Springs Conservatory, along with several of its alumni and mentors, in response to the need for social/emotional learning needs during the COVID-19 pandemic. Thanks to support provided by Ent Credit Union, the Colorado Springs Conservatory, Donnell Kay Foundation, the Dakota Foundation and the Joseph Henry Edmondson Foundation for this important program on RMPBS.
Rocky Mountain Public Media thanks the following partners for their generous support:
Education Reform Now

Colorado Education Association

Bright By Text

Invest In Kids

NASA (National Aeronautics and Space Administration)

Denver Museum of Nature & Science

Simple Gift Series

Ent Credit Union

Denver Botanic Gardens

The Denver Zoo

National Science Teaching Association

The Space Foundation

Fort Collins Museum of Discovery

National Cybersecurity Center

Bemis School of Art

Denver Art Museum

Sangre de Cristo Art Center

Colorado State Library

Colorado Counties, Inc.
Education Reform Now is a public education advocacy organization that seeks to develop and drive forward progressive ideas that help reshape the public education system to better serve all students, especially low-income students and students of color. ERN believes ALL students deserve full and fair access to a globally competitive high-quality public education that empowers them to fulfill their limitless potential.
The Colorado Education Association (CEA) represents 39,000 educators across the state of Colorado. CEA has generously provided the funding for educator stipends to our outstanding master teachers for their time and expertise in providing broader access to learning during the suspension of normal in-person teaching and learning. CEA is proud to support the valiant efforts of educators doing all that they can to ensure access to learning for Colorado's students.
Bright by Text delivers actionable information from trusted early childhood experts to parents and caregivers of young children — from prenatal to age 8 — to support healthy child development and build strong, resilient families. The service is free for caregivers and available in English and Spanish.
Invest in Kids improves the health and well-being of Colorado's youngest children by partnering with local communities to support research-based programs with a proven record of success. Serving nearly 17,000 children and families each year, Invest in Kids focuses on supporting the unique needs of low-income children to see every child thrive.
Colorado Education Initiative
The Colorado Education Initiative is a non-profit organization that cultivates systems improvement and equity in K-12 education. For more than a decade, we have been at the forefront of improvement, innovation, and change in Colorado's public education system. Learn more: coloradoedinitiative.org
Rocky Mountain Public Media
Rocky Mountain Public Media is Colorado's largest statewide, member-supported, multimedia organization and the parent company of Rocky Mountain PBS (RMPBS), KUVO JAZZ and THE DROP. Rocky Mountain Public Media has more than 90,000 members representing every county in Colorado and reaches 98 percent of the state's citizens through television, radio, and digital platforms. A non-commercial media organization by and for the people of Colorado, RMPM creates high-quality local and multimedia content through Regional Innovation Centers in Denver, Colorado Springs, Durango, Grand Junction and Pueblo. RMPBS, started in Denver in 1956 as Colorado's first public television station, is now a statewide television network, with stations in Denver (KRMA), Pueblo/Colorado Springs (KTSC), Steamboat Springs (KRMZ), Grand Junction (KRMJ) and Durango (KRMU). In its 35th year, KUVO JAZZ broadcasts jazz, blues, and a lineup of locally produced diverse music programs. Launching in 2019, THE DROP is the People's Station for R&B and Hip Hop.
In 2020, RMPM relocated to The Buell Public Media Center. For information about the Center, RMPBS, KUVO JAZZ and THE DROP, visit the media kit.
Spotlight Newsletter
Community stories from across Colorado and updates on your favorite PBS programs, in your inbox every Tuesday.