Learning Through Loss: Communities seek solutions after suicide clusters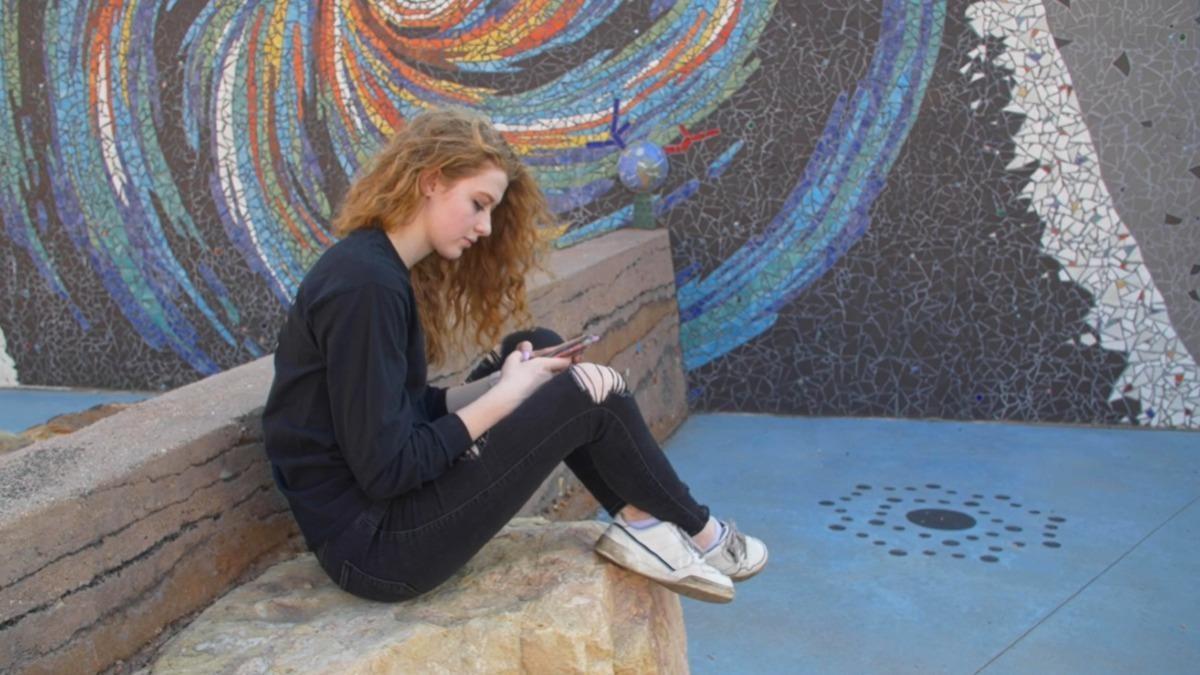 Though they are more than a thousand miles apart, Colorado Springs, Colorado and Palo Alto, California share a common mission born out of shared grief.
In 2015, both communities were experiencing painful losses of young people by suicide, referred to as suicide clusters. In the five years since, the communities have focused on healing and prevention.
Insight with John Ferrugia: Lifelines
27:40
Published:
"You're constantly on edge," said Sienna Adams, a recent graduate of Discovery Canyon Campus in Colorado Springs.
"You're looking for the next person to burst and just trying to talk to everyone, but you can't. Then there's a lot of guilt," Adams said. "It creates a lot of emptiness within the school."
In Palo Alto, Gunn High School graduate Chloe Sorensen said she will never forget the day her teacher announced a classmate had taken his own life.
"I remember this, like, instant breakdown … people just running out of classrooms crying," Sorensen said. "You don't have a lot of those moments as a 14-year-old, 15-year-old."
Insight with John Ferrugia
Two communities called to action after suicide clusters
3:41
Published:
Students share the impact of classmates' deaths as communities work to prevent suicide.
Both students jumped into action to help. In Palo Alto, Sorensen spoke up at a school board meeting after another student's death, telling the community to focus on offering support rather than blame. And in Colorado Springs, Adams took part in a program that trained students to support each other and seek help from trusted adults.
And in the years since the clusters, both Palo Alto and Colorado Springs have undertaken many community efforts aimed at keeping young people safe.
"It was like a call to arms," recalls Martha Hinson, the health and wellness specialist at Academy District 20 in Colorado Springs. "I think we knew it was a massive mountain to climb, and many of us didn't know where to start, but we knew we had to start somewhere."
Suicide prevention leaders in both communities say it's common to field questions from communities all over the country, asking for advice.
"We did attract some national attention, unfortunately," said Kelsey Leva, who helps run the El Paso County Youth Suicide Prevention Workgroup in Colorado. "I guess a silver lining of that is that then we were known for having done something about it."
"I think everybody wants to learn what happens if this happens," said Hinson. "Of course, when you're put into it and you have to learn while you're in the middle of it … so many people can glean from it."
Defining a Suicide Cluster
Indiana University sociology professor Anna Mueller studies youth suicide clusters by moving into communities that experience them.
"Part of what we're looking for when we define a suicide cluster is a disproportionately high rate of youth suicide that's way beyond what we would expect," she said. "If a school loses two kids to suicide over a month, that could be considered a suicide cluster. I would also argue that if a school has lost two kids to suicide over the course of a year, that is also likely a suicide cluster."
Sociologist studying suicide clusters discusses prevention
2:45
Published:
The sociologist is studying two school districts in Colorado, in Littleton and Mesa County, but has shifted to remote work due to the COVID-19 pandemic. She says a goal of her research in Colorado is to collaborate with schools to find strategies for sustainable suicide prevention. She says she cannot yet discuss her findings in Colorado, but shared what she has learned in other communities.
Mueller said it can be very difficult for communities that experience increases in youth suicide to turn things around without addressing the problems head-on.
"Bring in all the interventions, talk about suicide, talk about suicide with middle schoolers. Talk about mental health, talk about mental health stigma, talk about help-seeking," she said.
Mueller has not studied the clusters in Colorado Springs or Palo Alto, but has focused some of her work on the idea of contagion — the thought that one death by suicide could influence another.
"I sort of take issue with the language of contagion. It's not my favorite because it does imply if I sneeze, you're going to catch suicide. That is not how suicide works," Mueller said. "What it means is that when a youth is exposed to suicide, on average, we do see their risk of thinking about suicide or even attempting suicide increase over time, as a result of that exposure."
"I was already at a pretty high risk but losing my friends put me at a higher risk. Before I lost them, I had already been having suicidal idealizations... but losing them made me want to act on my plans," said Phoenix, a Colorado Springs teen.
"The courage that's needed is not the courage to die. It's a courage to keep living," Phoenix said.
Housing and food assistance in tough times can help prevent
7:33
Published:
Phoenix is 18 and identifies as non-binary, and we agreed not to use their real name for this story. They said they survived multiple suicide attempts after experiencing abuse, for which they are in trauma-informed therapy.
We met Phoenix at The Place, which provides shelter and assistance to youth experiencing homelessness in Colorado Springs. There is a growing understanding that programs like The Place are key pieces of the suicide prevention effort.
The Colorado National Collaborative for Suicide Prevention, a public health partnership with local, state and national organizations, is working toward a goal of reducing Colorado's suicide rate by 20%. One of the six strategies to achieving that is increasing economic stability.
Resources: Onward Colorado - Search for free or reduced cost services like medical care, food, job training, and more.
"If you break it down to the very basic needs of humans… so food stability, housing stability. If I don't have those things, I really can't focus on anything else," said Cassandra Walton, who serves as vice chair of El Paso County's arm of that collaborative. "What we believe is that if we can help people have economic stability, they're going to be more likely to be able to manage their mental health."
Other efforts in the community address food insecurity, like Colorado Springs Food Rescue. Colorado's Blueprint to End Hunger says food security is linked to lower rates of adolescent suicide.
These efforts are prioritized at the state level as well.
"We want to be really thinking about Colorado broadly and make sure that we're all working together to support everyone regarding mental health, regarding various traumas, regarding economic stability, food, housing, transportation, discrimination, all of these factors together," said Lena Heilmann of the Colorado Office of Suicide Prevention. "And really think as broadly and comprehensively about, how do we make life worth living?"
With help from The Place, Phoenix says they are on the road to recovery.
"I've grown quite a lot and I'm finally becoming my own person and becoming the person that I want to be," Phoenix said.
Prevention and Postvention
Colorado Springs students, teachers trained to offer support
5:19
Published:
Colorado Springs is placing emphasis on training adults who work with young people on the signs they may be struggling, and how to intervene.
In September, David Galvan of Education for a Lifetime trained the staff at a Colorado Springs charter school in Youth Mental Health First Aid. A student there died by suicide in August.
Recognizing that other young people may be at heightened risk after a classmate's death, such trainings are a common piece of what as known as postvention — the response after someone has died by suicide.
"I believe that anybody that works with youth across the board should be trained in youth mental health first aid. It doesn't matter if you're a youth pastor, a teacher, a coach, a parent... It should be across the board," Galvan said.
Students are also being trained to be peer leaders and help their classmates stay safe.
The school year after the Colorado Springs youth suicide cluster began, Discovery Canyon Campus launched a program called Sources of Strength.
Sources of Strength is a Colorado-based program that has been implemented in many states across the country. The state of Colorado has supported dozens of schools around the state in implementing the program.
The model trains school staff to be "trusted adults," and students to help support each other and steer each other to people who can help. Sienna Adams decided to join.
"I have had a lot of very long conversations about why people should stay, and who they can talk to. Where are your counselors? Who are the cool teachers in the school that are willing to talk about it?" said Adams.
And schools believe it is working. Martha Hinson, the health and wellness coordinator for Academy District 20, said the district can see the results as it screens more and more students for suicide risk every year.
"We're seeing our hospitalizations go down. Which means we're identifying more kids early," Hinson said.
Palo Alto shares models for prevention after clusters
10:12
Published:
Sources of Strength is one of many mental health resources that have been implemented in Colorado's Jefferson County Public Schools.
"We are invested in creating a county where everybody is educated and equipped and empowered to know what to do," said Michelle Gonzales, the suicide prevention coordinator for Jeffco schools.
The district has launched an ambitious plan to train all 14,000 of its staff members in suicide prevention in the coming years, and has also hosted training for parents and people in the community.
Gonzales said much of the district's comprehensive plan for suicide prevention has sprung from a toolkit put together by experts in Palo Alto, California, home of Stanford University.
One of those experts is Dr. Shashank Joshi, a professor of psychiatry, pediatrics and education at the Stanford University School of Medicine. Joshi has taken his community's toolkit on the road, training everywhere from Jeffco to Pakistan to Mexico.
The toolkit has three main areas of emphasis: promoting mental health and wellness, intervention when students are in crisis, and postvention.
After the community's youth suicide clusters, the group in Palo Alto supported legislation that requires schools serving grades 7-12 in the state of California to have a suicide prevention plan. Dr. Joshi uses the toolkit to train school staff, as part of those prevention plans.
"This was the culmination of a number of organizations, grassroots organizations, really identifying the need to provide this kind of education to young people so that they could start to learn about mental health and what happens when people are not mentally healthy," Joshi said.
Stanford is also helping to pilot what it hopes will be a new national model for youth mental health and wellness called allcove.
Palo Alto is one of seven planned locations across California where allcove walk-in centers are set to be located. The plan is for the centers to offer integrated care including adolescent health and mental health care, substance abuse counseling and career counseling, based on a model from Australia called headspace.
"When we look at where young people are mostly coming into our systems right now, it's generally after a crisis, whether it's a suicide attempt or a drug overdose or something really much more severe. Because we don't have these places and opportunities for the early care," said Dr. Steven Adelsheim, the director at Stanford Psychiatry's Center for Youth Mental Health and Wellbeing.
The hope is allcove would provide those early care opportunities for youth.
The team at behind allcove has gathered a youth advisory group to help design the centers. The youth group has had input on everything from interviewing potential staff to choosing facility sites to the planned hours.
"It's not something that we're creating for them. It's something we're creating with them and alongside them," said Vicki Harrison, program director at Stanford Psychiatry's Center for Youth Mental Health and Wellbeing.
"I ended up hospitalized at the end of eighth grade for suicidal ideation and I met people who had attempted," said Shravanti Shankar, who has served as one of allcove's youth advisors.
"I realized.. we all wait until it's too late to get help … even if it's as simple as, I have a test in a couple of weeks and I'm really stressed out, can I go talk to somebody to help me figure it out? I think that's what allcove is," Shankar said.
"I want [allcove] to be all over the country. I want there to be hundreds," said youth advisor Phebe Cox.
Behavioral health care is on site at school-based clinic
3:13
Published:
In Colorado Springs, a lifeline on the campus of Mitchell High School has remained open even as COVID-19 forced students to learn from home.
In January, Peak Vista Community Health Centers opened a clinic aimed at offering medical and behavioral health care. The health center is open to the whole community but the school's principal says it has been especially helpful for students and their families.
"We really try to treat mental health needs the same way that we would treat physical needs," said Shaye Meissen, the clinic's director of behavioral health. "When a patient comes in for their yearly physical … we ask questions about mood and depression and anxiety and stress, the same way we ask questions and look at their height and your weight and your blood pressure."
The clinic has also offered dental care, but is currently referring dental patients to other locations due to COVID-19.
Maria Niichel, the school's head counselor, says many students are struggling to feel connected during the pandemic.
"A lot of the things that we've seen with students is anxiety and depression skyrocketing ... maybe they don't feel as accessible to us, or accessible to teachers," Niichel said. "Knowing that we have this clinic, it honestly gives them another reason to come near Mitchell."
Securing weapons, medications can save lives during a crisis
6:48
Published:
As a volunteer at Pikes Peak Suicide Prevention Partnership in Colorado Springs, Pete Leizer talks with the community about prevention.
For Pete, the issue is personal. He lost his 14-year-old son Kyle to suicide three years ago, and moved to Colorado to work on healing.
"The loss of someone by suicide affects so many people," Leizer said. "It's like dropping a water droplet into a pond and seeing the ripples."
In a county with many recreational firearms enthusiasts and a high rate of suicide, the partnership works to distribute cable locks for guns to the community to encourage people to store their weapons safely.
One of the city's emergency departments at UCHealth Memorial Hospital in Colorado Springs has also been distributing cable locks for firearms and lock boxes for firearms and medications, after a study conducted at that ER and others across the state suggested offering those items to families of suicidal youth who visited the emergency room made a difference.
"It was very life changing for me as an evaluator," said Andrea Wood, the Zero Suicide coordinator at the hospital. "Here's what your child knows. They know where your weapon is located … and that means they can act on it. And it's usually a split [second] decision for kids and, and with a gun, usually they can't come back from that."
The study followed up with families who had visited the emergency room to ask about their storage practices, then trained emergency room staff to counsel families about securing firearms and medications and offer them locking devices.
"What's really important is that we found on follow-up, the families who had received counseling in the phase after training, those families were at least twice as likely to have locked up firearms or medications at home. That really suggests that this kind of counseling by clinicians has an effect," said Dr. Emmy Betz, a University of Colorado Anschutz associate professor and emergency physician who helped design the study.
This idea is referred to as lethal means restriction, the thought that keeping someone in crisis from accessing the deadliest methods of attempting suicide will reduce deaths.
That's important because researchers say the majority of people who survive suicide attempts do not try again.
And the focus isn't always on firearms. In Palo Alto, California, the community pushed to secure its train crossings after an increase in youth suicide deaths.
Clusters of youth suicides have been in the headlines for decades. Records obtained by RMPBS show the Centers for Disease Control, or CDC, has conducted epidemiological investigations of at least 13 clusters of adolescent suicide deaths and/or attempts in 12 states dating back to the early 1980s.
It was around that time that a documentary crew came to Chryss Cada's home in Loveland, Colorado, because young people in that community were dying.
Sister describes the lifelong impact of her brother's death
7:48
Published:
Chryss was just 12 years old when her 15-year-old brother Mark took his own life at the home where their parents still live, in the hills of Larimer County.
Looking back, she doesn't recall specific signs that her brother was suicidal. She remembers he experienced bullying and argued with his parents about a bad report card shortly before his death.
"At that age you can't see the future. It's just, 'Right now, this is so bad,'" Cada said.
Chryss said the pain of losing Mark is still intense, almost 40 years after his death.
"I know if my brother could see what happened to me after he died, he never would have done what he did," Cada said.
Chryss Cada now teaches journalism at Colorado State University. She has written a book about her brother's suicide, and applies what she has learned about suicide prevention in the classroom with her students.
"I make a point of reaching out to them and just being like, 'Wow, what's that like for you? What's going on with you?'" she said. "Once you just invest some time, I feel like they embrace that."
When Cada spends time on the hillside at her parents' home where she and her brother played as kids, where her brother died, she says she feels she can hear his voice and talk with him. She has a piece of advice for those who hear her story:
"If you have a brother or sister, tell them you love them."
Communities reflect on lessons learned from suicide clusters
5:51
Published:
In both Palo Alto and Colorado Springs, there seems to be a guarded sense of optimism among those in the suicide prevention field.
Both communities have seen the youth suicide rate decline in recent years, and both cities have seen young people step up to help lead prevention efforts. But leaders in both communities also know there is much more work to be done, especially to address pandemic-related mental health impacts.
"People take a deep breath and say, okay, hopefully it's in our rear view mirror now. And I know as a parent and as a clinician here, as a faculty member, as a researcher, that objects in our rear view mirror are closer than they appear. And we know that we still have a number of attempts every week that we see in the emergency room," said Dr. Shashank Joshi of Palo Alto, during a February interview.
Students in Palo Alto started an effort to change the way suicide is covered in the media. The effort is led by Chloe Sorensen, who witnessed the community's youth suicide cluster as a high school student.
"I think there's been a tremendous amount of progress in the community," said Sorensen, now a psychology student at Stanford. "I feel like so much is different about the culture of the way that we talk about mental health. I feel like mental health is very out in the open now. There's a lot less stigma."
In Colorado Springs, close to 90 community partners joined together to form the El Paso County Youth Suicide Prevention Workgroup.
The group says it has strengthened partnerships between mental health professionals and law enforcement and has facilitated suicide prevention training in the community, and developed messaging campaigns aimed at prevention.
Resources: Below the Surface - Youth-led campaign about Colorado's Crisis Text line. Text TALK to 38255 to seek support.
Kelsey Leva helps to run the group, which meets monthly.
"I want to be able to look back and say that we not only got our suicide fatality numbers down to a more normal level, [but] that we took it even further and we're breaking records with how few young people are dying in our community. We want to be known for that," Leva said.
"We want to be known for being a place where young people feel accepted. That's big picture, the dream," she said.
More from Lifelines: Preventing Youth Suicide
This story is part of a collaboration with FRONTLINE, the PBS series, through its Local Journalism Initiative, which is funded by the John S. and James L. Knight Foundation and the Corporation for Public Broadcasting.
Spotlight Newsletter
Community stories from across Colorado and updates on your favorite PBS programs, in your inbox every Tuesday.